The Document & Binder Templates page allows you to create and manage templates for documents and binders.
This article explains how to navigate the Document & Binder Templates page. Separate articles cover the processes for creating and editing templates for binders and documents, and for configuring and working with controlled document templates.
Accessing Template Management
You can manage document templates in Business Admin > Templates > Documents & Binders.
Document Type Tree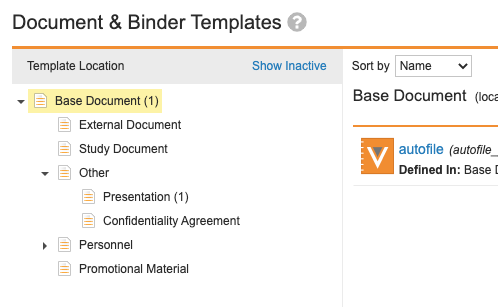 This panel allows you to expand document types to see subtypes and classifications and also shows the number of locally-defined document and binder templates for each type. Note that by default, Vault only displays active document types. To see inactive document types, click Show Inactive.
Clicking a document type displays the related templates in the main panel.
Templates List
This panel displays document templates and their basic details. The Sort by picklist sorts these templates and the Show local templates only/Show local and inherited templates link shows or hides inherited templates. Disabled templates appear with (Disabled) next to the template label. From the template list, hovering over a template will display a Download icon and an Actions menu allowing you to set the template status, or delete the template. Note that you can't Download or Delete controlled document templates. For more information about controlled document templates, see Creating & Managing Controlled Document Templates.
To view or edit a template, click on the template label from the list.